Joined

Dec 1, 2013
Messages

369
Location
Hi all, I thought I'd document the progress I'm making with my Altair.
I couldn't power it on when it arrived, because it was set-up for 120V and here in England we use 240. I didn't particularly feel like re-wiring it (especially since I don't have a 240v fan, not that I really need it), so I went the cheap and lazy route and wired a US outlet to a 110v site transformer I picked up for free.
When I first opened the machine I noticed the 64K ram board wasn't fully populated, infact it had chips missing between addresses. I went ahead and pulled all the RAM and tested it with a NeoLoch RAM tester, which failed half the chips (I don't really trust it though, because it's supposed to test 2114s too but the supplier recently said there's issues testing those chips), so I went ahead and removed those and proceeded to test the 74xx ICs on the RAM board and the CPU board, which is actually from an IMSAI. All but one chip worked, which I replaced.
I powered the machine on with no cards and checked the voltages, which appeared good, so I then went ahead and tried the RAM card, followed by the CPU card.
At that stage the system would come up, and start executing garbage. I'm not entirely sure if that's meant to happen since my Altair clone doesn't do that, but I know a stop+reset is needed anyway. I checked all the switches, and I could examine and deposit fine, so I went ahead and entered the "kill the bits" program, double checked I'd entered it correctly, examined 0 and hit run.
It didn't work, all the address lights flickered and it wrote over itself. Next I tested the socketed ICs on the front panel board, which all seemed to work except one of the 74123s that had been replaced previously. I desoldered the other 4 and tested those, and they appeared bad, so I ordered some more and some sockets, then replaced them. Strangely though, the new ICs tested bad too, but I think maybe my IC tester doesn't support it. (I can't tell because it's a no-name Chinese thing without a manual)
After that and some more wire repair, it's now in a state where it will run 'kill the bits'.
There are a few oddities I've not quite worked out yet:
-hitting reset the first time works, but doing it again will deposit 377 into address 0
-single stepping shows some differences in what's being executed compared to the clone, I'll have to have a look at the 8080 instruction set to get a better idea of what's going on
-holding reset illuminates every status light except stack, whereas my clone turns all the status lights off
Any ideas?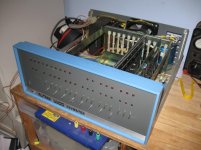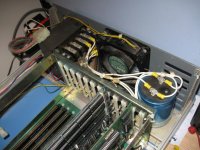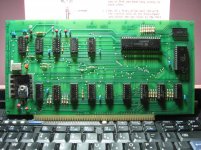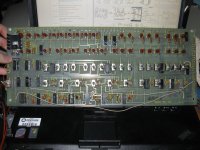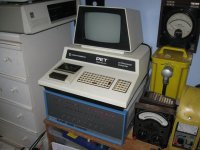 -Tom