Hi all,
I'm looking for some help please. After not using two Apple IIe's I have for a while I finally got some space in the garage and an area to set them up sorted out.
Connected them, turned them on and not one, but both of them have faults.
I'm attached photos of what shows up on screen. I removed all addon cards and I get the same image(s) on screen.
One of them is an Apple IIe Platinum and the other is an Apple IIe Enhanced.
Does anyone have any ideas on what I can do to drag them back into the land of the living please?
I did read that removing and re-seating the chips might help and I've done that to a few of the chips though I'm not entirely convinced I'm doing them any favours.
I thought the better course of action initially would be to get some feedback from those who might know more.
Many thanks ...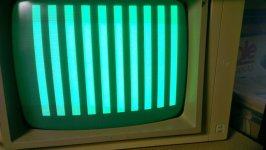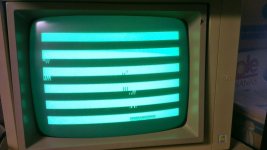 Last edited: