Joined

Nov 10, 2009
Messages

526
Location
I recently acquired a fully-working 7300 from a friend. The catch was, he would need to keep the hard drive (an ST-251) since it was his only working MFM drive. No problem, I thought. Another friend of mine has a few half-height MFM drives, so I could use one of those.
I tried another ST-251, an ST-225, and a CDC Wren II, with the same results.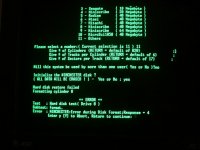 No luck with any configuration options. The error message comes back right away, without delay.
I can't seem to find a manual online regarding possible error messages from the 7300.
It may be possible that I have three bad drives, but they all spin up and sound good.
Thanks,
Kyle