Joined

Nov 30, 2017
Messages

7
Hi guys,
I just got myself a multi system monitor from EIZO. The guy that sold it said he had nothing to test but it did turn on. I took the chance as it was cheap. It can do vga,cga,ega and also accepts analog rgb.
So I got it home and I noticed that the cable is 9 pin and has a 9-15 pin adaptor on the other end. I plugged it into a thrown together 386 system, set it to vga mode and it gave me this picture: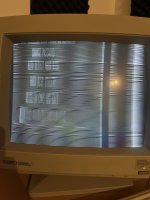 That's its bios screen. The text would normally be in the middle. Is it missing sync? I am completely clueless on the workings of crts so I was wondering is there anyone else on here that might have an idea?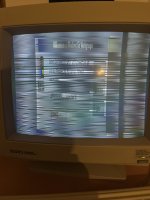 Here it is trying to display windows for workgroups 3.11 login screen.
I tried setting a jumper on the vga card (trident 9000c) to change the scan rate but seems to do nothing.
I'm at a loss at this stage 😟
If someone has an idea, I would really appreciate it
Last edited: