Joined

Mar 25, 2015
Messages

93
Location
For sale;
Atari Mega ST2
Megafile 30
SM124 mono monitor
I acquired a pile of Atari and other stuff the other day. A nice 1040ST working with mono monitor for my collection although I'd like to have a color SC1224 monitor. An electric mechanical adding machine and a C64 w/ floppy.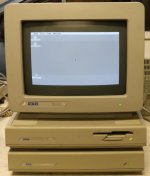 Also a Mega ST2 that appears to work but I don't have a keyboard or mouse for it And a Megafile 30 that seems to seek track 0 - at least I don't hear it hunting. No cable for it.
I'm
looking for a keyboard
for it. I'll sell it if I haven't found a keyboard. And I'll update the post with not for sale if I find a keyboard.