I have a 286 board, but it has some missing parts (3 resistors and 2 transistors). I would appreciate if somebody has the same board and tell me exactly the values/ID for these parts.
The board itself has no brand, but it has 2 stickers: "103FS" and "LM910901722". The 1st one is probably the board model, but the 2nd one could be just the serial number. This board is found in TH99 under the name "Unidentified LM-103".
It is a late 286 board manufactured in 1991 week 20.
On the back side there is a square logo with "HS" or "HCS" letters folowed by "-A-200".
It has a 16MHz 286 and the chipset is a "Headland HT12/A". It came with a 287XL
I have searched for photos of this board (to try to see the missing resistor colors) but I obtained no results.
The board: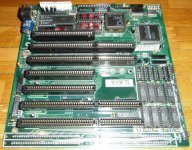 Detail of the missing parts (R5, R6, R7, Q1 and Q2) position: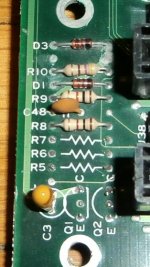 ID stickers: