Joined

Sep 16, 2014
Messages

922
Location
I dug out my IBM 5150 the other day after not using it for a few months. I have an XT IDE card with a 10GB Maxtor hard drive (51024u2) that was working the last time I put it away. The system boots up, but right before the XT IDE starts looking for drives the hard drive spins down. It almost sounds like it's losing power or something. The drive itself is fine and I can see it when I hook it up to another computer. I'm wondering if it could be the power supply somehow? It's a 3rd party replacement (Master Tronic 150w) so it's not the anemic power supply the 5150 originally came with.
Truth be told I'm not a fan of the old spinning disk hard drive since most of them (including this one) make a terrible whine as they age. I was thinking about using a DOM or some other kind of flash card with the XT IDE. Is there a recommended one that has good compatibility? I actually have a 2GB DOM but it needs a tiny two pin power cable that I've since lost. I don't even know what to call it (two pin mini to 4 pin molex cable?)
How well do these CF to IDE adapters work?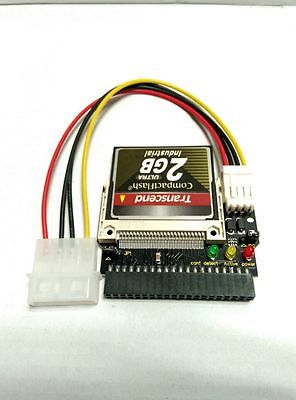 Transcend dom 2gb industrial high speed dom disk 2GB 40pin ide. Compatible with IDE Interface. Standard 40 pin IDE connector. Compact design with module con. Interface(connector). Compact Flash. Compact Flash Card.
Last edited: