Hello again everyone:
A long time ago not to put any message in the forum. I have not much time. I have been "father" a few months ago. :grin:
Well .... a few weeks ago a friend gave me his old IBM 5150 but very interesting.
The computer has a Western Digital hard drive with a controller WD1002A.
I want to do a low level format. I know there is a routine with DEBUG but I do not want to use this routine.
I want to try old program called LLFORMAT from Western Digital LLFORMAT.
This program was on some pages but now it is impossible to achieve.
Here ----
http://www.powerload.fsnet.co.uk/download/llf13.zip
---
and here ---
http://oldfiles.org.uk/powerload/download/llf13.zip
---
Here is a picture of this program.
http://en.wikipedia.org/wiki/File:IBM_PC_XT_10_meg_MFM_low_level_format.jpg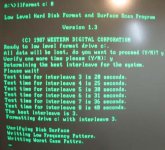 Please, someone has this program or someone knows where you can be on the internet (www).
Thanks and best regards.
Guille