Joined

Dec 23, 2012
Messages

970
Location
Hi all,
I have a Mac SE showing a barcode-like pattern: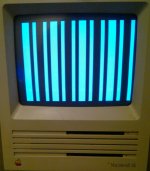 A friend of mine has the same computer, so we swapped parts until we found the culprit: the 342-0353-A (rom low) chip. I got the BIN image on the web (64 kB), but I don't know if I can use a 27c512 eprom as direct replacement or not; do I need an adapter? In this case, have you some schematics for that?
Another question: can I dump the ROM content simply reading it by my eprom programmer as it was a 27c512? I didn't find the 344-0043-A IWM ROM image and I wish to dump it, just in case... again, if an adapter is needed, I wish to know if you can supply a schematics..
thank you!