I am at my wits' end trying to get an Ethernet connection between a Win7 and a Win10 machine working. At either end I have set up the desired shared drive and can see them from opposite ends, but neither computer will give me permission to access the other. I get the exact same message on both machines:

That is on the Win7 machine, trying to access drive D on the Win10 machine. It makes no difference if I log on as a general user or as an administrator. Who is my "network administrator" supposed to be? I've done everything
here
, except for the SMB stuff on the Win7 machine because it's not present in the "Turn Windows features on or off" list.
At either end, permissions are configured as follows: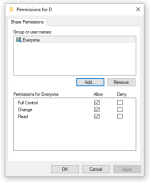 Anyone have any ideas?
Last edited: