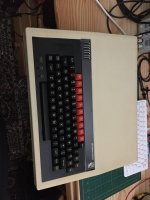 Just wanted to give some BBC love there are not a lot of forum posts on these cool computers. I received mine several weeks ago and after replacing rifa caps in the power supply I tried to get a Turbo MMC working in mine. No matter what I tried I could not get the MMC working in it.
I later learned that my system is a very early example and shipped with the first version of basic and the os roms. The seller who provided me with the turbo MMC graciously burned some new os and basic roms for me and sure enough worked like a charm after that. Just a heads up to future beep fans that can't get their turbo MMC working check your os and basic versions.
Also just joined the thread after lurking for a while awesome community hope to share more with you all!