Joined

Mar 4, 2009
Messages

385
Location
Win 16 Software Titles. I wrote 4 of the titles on this CD but never received a copy for my personal archives. This edition appears to be German. I know I was given translations for at least 2 other languages. I wrote these games for Softdisk for Windows in the early to mid 90's and did the translations while working for Softdisk in 1997:
Quad Stones
Hexanity
Relix!
Strips
Until today I didn't even know the title of the disc. I was under the impression at the time that the games were to be used for an educational company so I probably got screwed, but hey it was just business (Softdisk no longer exists anyway).
I would really, really like to get my hands on this for my archives.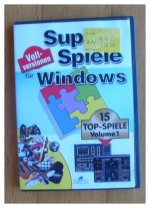 FYI: Todd Lewis wrote many of the other titles on this disc. He left Softdisk shortly after I did to work for Red Storm entertainment. I think he was really hoping I was headed to Ensemble Studios (now defunct via Microsoft deal (I warned them, but they didn't listen)) but I headed back north to write casino games for a while (mostly C, x86 assembler and 8051 microcontroller assembler).
Last edited: