Hey guys, what do you think about this 6 minutes snap-on 386SX to 486 upgrade "chip" I saw on an informaticaviejuna's Instagram post?
I had no idea such a thing even existed!!! (and how in the world would it work "disabling" the 386 CPU that is left underneath since the motherboard clearly doesn't have a jumper to disable the CPU)
https://www.instagram.com/p/Bu9oIleFcWP/?utm_source=ig_web_copy_link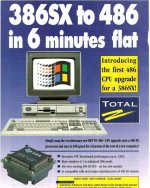 I'd love to hear your thoughts about this.
Thanks!