Joined

Apr 24, 2015
Messages

71
Location
Another small update, this time to list some of my old test-equipment!
First off, I have an HP 5005A Signature Multimeter (no picture as it's not only dusty but hairy! Cats, y'know.)
It's complete and functional as far as I recall, passes its internal self-checks fine.
Problem is, I'm not sure what use it is to me, nor precisely how to use it.
But I preferred saving it over seeing it go in the skip!
It (and the rest I'll be listing here) came from a local college, by way of being donated to the Union Gospel Mission homeless shelter I was volunteering in at the time.
I was working in the computer lab there, using donated materials to supply the lab as well as build computers/laptops for graduates of the rehab program to take with them when they left the shelter.
Computers/appliances/equipment not suited for the program were recycled if they fell under the limited umbrella of the Washington State recycling program.
The program only took screens/monitors, computers, laptops, certain household appliances like TVs, maybe media-players, and not much else.
Things that didn't fit either of those categories were either stripped/broken down for recyclable materials (primarily metals/wire) or thrown in the bed of the big ol' truck for a trip to the dump.
I intervened on a number of items before they got tossed in the garbage-truck, which they allowed as it meant less to haul off to the dump. (I also acquired a number of lopped-off connectors this way, more on that in a future/different thread!)
Next, is my Elenco GF-8026 Function Generator!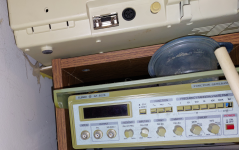 Yes, it's missing the top half of the case/cover, that's how it arrived.
It had a post-it stuck to it mentioning a couple transistors being blown and subsequently replaced, then possibly blown again by a similar accident, likely why the case-half was open/missing.
Unfortunately, due to rough handling by those that loaded up the truck when they were sent to collect the donated materials from the school and who later unloaded them into apple bins (by throwing things from the truck to the bins) its PCB was snapped in half and three of the ganged function switches were snapped off. (this was not the only thing so damaged during my time there)
But, with a large number of jumper-wires and three new switches ordered online (once I figured out the exact type they were) I was able to restore it to mostly-functional. (barring one missing button after only recovering two of the snapped-off stems and having yet to diagnose/fix the original fault that saw it tossed into storage for years)
Below that is my Tenma 72-7245 bench power-supply.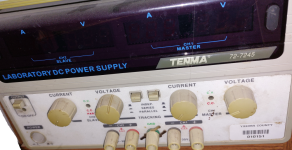 It, unfortunately, was DOA and hasn't been improved since.
The big toroidal transformer was open circuit on the mains-side and the thermal fuse was embedded under ALL of of the windings, down near the toroid.
I unwound it, intending to attempt repair (and still have all the windings in a box somewhere) but it really wasn't/isn't worth the effort and its a cheap, low-quality supply anyway.
Once contemplated putting different, possibly multiple, transformers in it but there exists no documentation on the output voltages of the original, so that's a bust.
So it sits, waiting to be used in some project in the future or to get broken down for parts.
Finally, for now, my Tektronix T921 15MHZ Oscilloscope, a blue-plastic luggable model.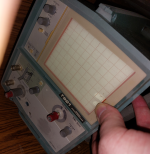 It, like my other equipment, is at least semi-functional but it came without leads and I'm not familiar enough with scopes to accurately evaluate its health.
It is certainly old and well-used, having come from the storage rooms of a local technical college.
Unfortunately, given how much junk and stuff I accumulated in my energetic, well-meaning younger years, (and still living with my parents) I have no place to set any of this up for use with projects.
Until next time!