Hi all,
recently found in the basement my old 5086.
The problem is that sometimes it boots and when
it boots it says 'system cmos checksum bad - run setup".
i have the disk with the DOS in the drive but the light of the drive doesn't flash
& it says "diskette error...".
When i enter the cmos, time and date change themselves.
In the video, I'm only hitting the up arrow on the keayboard.
Whatever change I make to cmos, I press F10 to save & exit
and when I enter cmos again, it hasn't saved any chande I made!
I opened the case and I can't see a battery which I can change
& I don't think that there is clear cmos jumper.
Any help is appreciated. :D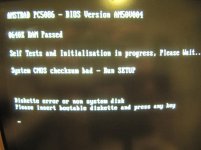 [video]http://s904.photobucket.com/albums/ac250/omegals/?action=view&current=MVI_0146.mp4[/video]