Joined

May 11, 2011
Messages

420
Location
so tonight I opened one of the two "speedup kits" that I have acquired in a mix match box of parts.
this kit is simple, a board that will end up plugs into the Model 4 U3 and the U3 chip onto the board, and swapping out the Z80A (4mhz) for a Z80B (6mhz) CPU. simple… well, in reality, take a lot longer to take apart the computer internal to get to the mainboard than apply this kit. simple it IS!
NB: I have 150ns 4164 chips in the system already installed and strongly suggested to get good speeds 120ns would be better.
step one: I found a program called "clkspeed/cmd" for model 4 (runs on TRSDOS/LSDOS 6.x) and ran a benchmark to get an idea, 3 mins later the result was on the screen, 3.62Mhz at top speed.! with the Z80A stock from TRS.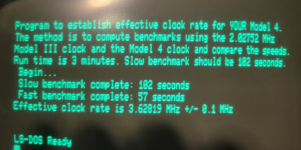 turned off the machine, found the U3 chip, removed it carefully (notice some mod already one it) and put it on the alpha speedup board and reinserted the board in the place where the U3 was pulled from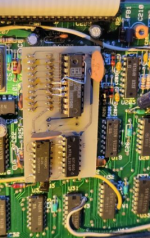 Next, I replaced the z80a with the z80b that was provided in the kit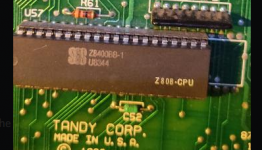 closed her up and ran again the same test and low and behold "speed"… Seriously, now calculations at 2 Mhz took 103 seconds, 57 seconds in 3.66 Mhz now barely take 45 seconds in 4.64Mhz ! the kit claim to fame only 5.x Mhz speeds, so I am close and better speed would be acquired with faster ram I am sure but happy anyway.
Maybe I should put a heatsink or a water cooling system. Kidding aside, 1Mhz was a lot in 1982, and at 65$ this kit WAS the easier and cheapest kit available on the market at the time.