Joined

Sep 9, 2013
Messages

1,534
Location
I have a Tandy Fifteen Meg Disk System. The drive seems to be functional. I've dumped its contents with David Gesswein's MFM Emulator, and it seems to still be error-free after 30 years! Examining strings in the image suggests that it probably has LS-DOS 6.03 on it. I found these strings:
TRSDOS 06.02.00 - Copyright 1984 Logical Systems Inc.
and
LS-DOS 06.03.00 - Copyright 1986 Logical Systems Inc.
in the image.
Now I'm trying to access the drive with my Model 4P, and I'm not having luck yet. I'm a bit confused about how hard drives work in TRS-80 land. I gather that the RSHARD driver needs to be invoked with correct parameters to tell it the physical drive details and partitioning, but how do I figure that stuff out with a drive whose contents are unknown?
When I boot the 4P with the hard disk attached and nothing in the floppy drives, I get a blank screen. Inserting an LS-DOS floppy that I have gives me a "Disk Error" message. Resetting with PF2 pressed lets me boot that floppy normally. I use a FreHD on my Model 4, but with disk images that were created by knowledgable folks.
Can anybody help point me in the right direction?
The drive makes a lot of noise. Sounds like arthritic bearings, with occasional "sproing" sounds. I plan to leave it in place and functionally replace it with an MFM Emulator board tucked inside the box to save wear and tear on the real drive, but I'd like to try using the real drive a bit first for fun and edutainment. Here it is spinning up and down after I replaced the keyswitch (didn't have a key for the original) and the Rifa paper dielectric cap in the power supply (based on obvious cracking of its case, I'm sure it would have burst into flame under power):
I posted many pictures in my
Twitter feed
, and here are some highlights: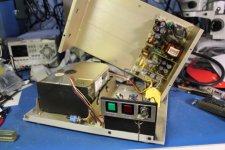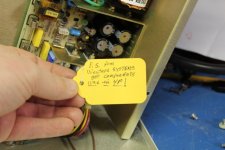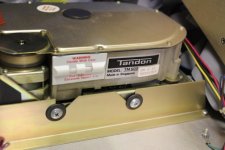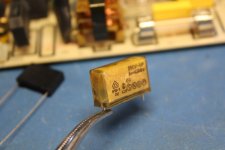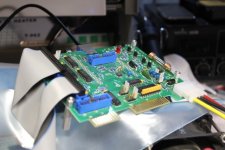 Edited to add:
According the the
MFM Emulator card
, this drive appears to have 306 cylinders, 6 heads, and 32 sectors per track.
Last edited: