Joined

Aug 11, 2011
Messages

35
Location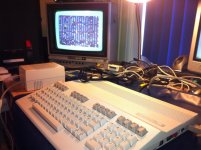 I got this really nice condition C128 about 3 weeks ago. I didn't pay too much for it (for 128's at least), but as you can see it doesn't work. The display you see here is what remains when you power it up, on both rf and composite. Strangely if I switch it off & on again I just get a black display, but if I leave it off for a while and try it again I get the display on the picture again. I thought the PSU may be on the blink, as I didn't get a 9v reading. I later had a homer doh moment when I realised unusually the PSU is putting out 5v DC and 9V AC. When the 9V AC was checked it seems fine.
I'm suspecting this could be a bad rom to do with the display, which there are 2 in an enclosure on the motherboard. You guys may know better though? I'd really like this one working, I think of all the vintage computers I own, it could be the one I use the most.
Thanks as always, in advance.