Joined

May 31, 2016
Messages

608
Location
Last fall I picked up an original Deskpro at a local computer recycling center, the system unit only. They warned me they thought some of the capacitors had blown in the power supply, but I planned to drop a working p/s from a spare Deskpro 286. Then I left it in the closet for a long time.
Finally got it out today, and surprise, nothing happened when I plugged it in and hit the power switch. I had planned to plug in my Compaq dual-scan mono monitor but I discovered the silly thing didn't have a video card!
I needed to take the cover off to replace the p/s, so here goes...
This puppy has a 20Mb Hard Card (the actual brand) in it, as well as an AST Six-Pack Plus card. The memory looks to be fully populated: 384K ram, but no coin battery installed. I guess that's a good thing. There's also an 8087 co-processor. There's two banks of 64K ram chips soldered onto the motherboard, and two more socketed banks with 256K chips. If I read the DIP switches correctly, it's already configured for the co-processor, 640K of ram, and a RGB/EGA video card. No idea how the ram on the Six Pack is set up. I've read that the Deskpro floppy/parallel controller has a real time clock on it, but I can't find anything that looks like a battery on it.
My problem is that my apartment is a mess right now, and I have no idea where my spare ISA video cards are. I have one of each; a clone CGA, Herc card, and an EGA card. Below are some of the components.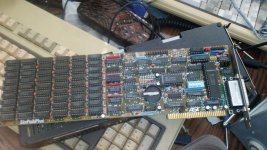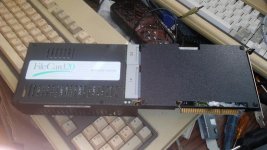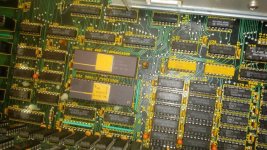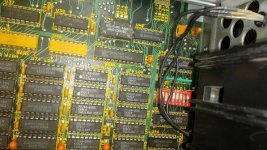 Since I'm going to ask some silly questions, I'll start with this one: I'm assuming that the Deskpro will take the Deskpro 286 power supply. They both have the same odd Compaq connector. Is this a reasonable assumption?
Is the red dip switch package the one the motherboard uses for configuration? Never dove into the innards of an original Deskpro before. It looks like that the configuration switch box. Also, while my other video cards are buried somewhere right now, I do have two spare Compaq Portable VDU cards. No idea if they still work, and I can't put the case lid back on with that sucker in there (it's bloody high) but it should work as a standard CGA adapter, yes? Just for debugging purposes to see what's still working on this thing?
If you look at the photos the interior looks very clean; no dust bunnies. Don't know if the recycle center cleaned the inside & pulled the video card or not.
Anyone have anything to suggest before I drop in the p/s & VDU and see what happens?