Joined

Apr 21, 2011
Messages

945
Location
This is a little review of my favorite 1980s laptop, the Compaq SLT/286, a reliable, solidly-built machine with great features.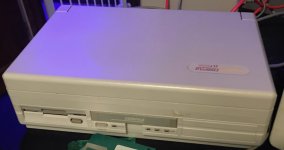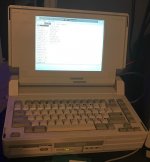 Some history first: the SLT/286 was released in October of 1988 and was the very first laptop to feature VGA display. It was sold as a high-end desktop replacement system, and the price started a $5,399. Battery life was 3-hours minimum. Very good for 1988 standards.
I own three of these units and they all work fine (I did have one issue with enabling EMS support on one of them, but I think it's a bug of the first-revision system board, not a failure). They spared no expense on the construction of these, so they use very high-quality components (no nasty SMD electrolytic caps to worry about). They are also very easy to service in my opinion.
Here are the specs:
12MHz Harris 80C286 CPU
640KB of RAM (expandable to 12.6 megabytes, my three all have 3.6 megabytes)
20 or 40MB Conner Peripherals hard drive (standard IDE with special three-pin power connector, but can be adapted to standard molex)
10" 640 x 480 VGA grayscale LCD display
1.44MB 3.5" floppy drive
2400 baud internal Hayes compatible modem (optional)
The pros:
Not terribly hard to find or expensive (lots of these were produced)
Easy to service (they really are. Please just take the time to read the official Compaq service manual that can be found on minuszerodegrees.net.)
Very reliable
Great form factor
Solid construction
Really nice feeling removable keyboard
Looks awesome
3-hour minimum battery life (probably even more with modern Ni-Mh cells)
Bright, easy-to-read display
Uses standard IDE hard drive
Nice n' chunky
The cons:
I'm drawing a blank here. I've really got nothing! For me, this machine really is perfect. It has everything I like and lacks everything I don't. I'm sure others would have a different opinion, but this is my opinion.
I suppose the Dallas DS1287 RTC chip would be a big con for most people, but they really aren't that hard to fix (especially now that I have found a relatively safe way to hack into them without unsoldering it), and I would way rather have that over a NiCd battery that would leak and ruin the board.
Well, that's my review of the Compaq SLT/286. All in all, I give it a 10 out of 10.
Keep in mind this is all just my personal view/opinion on this machine.
And also, on the software side of things, I run Compaq DOS 5.0 on my "main" one, along with 4 different versions of Windows, Premier Edition, 1.04, 2.11/286, and 3.0. Also got WordPerfect 5.1, DeskMate 3.02, some games and a few other odds and ends.
I've got something else on the way I plan on doing a review of as well if I can get it running. It'll probably end up being one of my favorites too if everything works out. I've gotten to the point where I only buy systems I actually think I would like to use, rather than buying merely on curiosity like I used to. Don't have the room for that anymore, and I would honestly rather have a slightly smaller collection of things I
really
like, rather than a massive collection of things I "kinda" like.
Last edited: