In a
recent post
, I mentioned a new system I acquired and wanted to get into the system monitor. That I was successful with that and in testing the RAM on board. Now I'd like to get the system booting from the Floppy Disk. I have just one disk which I believe has MP/M on it. The system was configured with 4 floppy disk drives (2 QumeTrak 842 and 2 Siemens 120-8). For simplicity's sake right now, I'd just like to use a single drive. I'm read through both the Tarbell controller manual and that Qume's manual. As far as I can tell, I have the drive configured as a single drive, Drive 1.
This table from the Tarbell manual shows how to jumper the drives: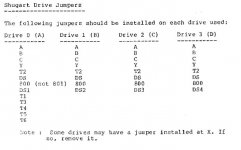 I've confirmed that I have jumpered A, B, C, Y, DS, and DS1. I could not find anything in the drive manual or on the PCB about 800, or T1-T6. Anyone know about these settings?
So I have reconfigured my 2810 CPU board to its original configuration (not to boot to ROM). However at powerup I get no disk activity. No lights, disk does not spin. If I manually move the head prior to powering on, the head does seek to Track 0 - but does nothing else. I can't tell if I have misconfigured something to do with the floppy cards/cabling (I don't think so), or if the FDD isn't getting the request to boot (probably more likely)? How do I configure the system to boot from the floppy drive? In a Vector Graphic system I had, there was a "B"oot option in the monitor that would initiate the process, but there doesn't appear to be a Boot command in the 2810's monitor.
If more pictures would be helpful for troubleshooting, just let me know what you need.