I remember my dad having to write several different AUTOEXEC.BAT files, depending on what game we wanted to play. Sierra games in particular. I am now trying to do the same, I suppose.
The computer is a JPL 386 PC compatible. Here is what the MEM command gives after my bootup.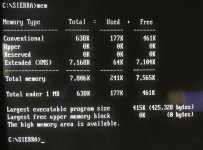 I try to run Quest for Glory 2 and the response is "Your computer does not have enough memory to run this game."
I am running DOS 6.22.
The technical requirements/supportability of the game according to the box are:
MS-DOS 5.0 or greater
286 or better
640 KB RAM
7.5 MB Hard drive space
Tandy Graphics, CGA (B &W), EGA, MCGA (PS/2), VGA or Hercules Monochrome
Roland MT-32, AdLib, Sound Blaster, PS/1 audio/joystick adapter or other music synthesizer
Mouse​
1. First I need to learn about memory. There is conventional memory, upper memory, shadow memory, extended memory, and expanded memory. Any others? Why is there a difference in how the types are usable?
2. Can anyone point me to a crash course in how to do memory configurations? Possibly even how to create a boot menu that times out to a default?
3. Is there some lookup table on the Internet on what vintage games require what memory configuration? (Yes, such as sierrahelp.com)
Last edited: