Joined

Mar 25, 2015
Messages

93
Location
I got a signon out of RDOS with my Cromemco Z-2D. Check it out
here for some pictures
. ZPU, (2) 16KZ RAM cards and a 4FDC.
I have some possibly suitable drives, if my Siemens end up bad, from a Heathkit 3 drive enclosure. Not really wanting to break this up as I have an H8 I'd like to get booting (it's monitor comes up)... another day / story...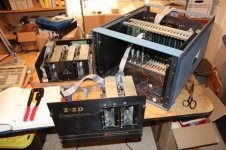 I inadvertently messed up the jumper settings on the Siemens, formerly Wangco, model 82 floppy disk drive while cleaning and lucubrating. Perhaps you have a reference for those settings? Cromemco and/or Wangco manual?
I do have it to a point where the drive activity LED lights after B<CR> in the monitor.
Does CDOS allocate itself to available memory at boot? Or does a correctly sized for memory system have to be generated? I currently have 32k in 2 16kz boards. I have two other 16kz RAM boards that are not working yet. I've got a 64k Tanner card that I know works. I haven't tried it in the Z-2D.
Any suggestion as to what might be a good reliable alternative to my current FDDs?
You wouldn't happen to have or be easily able to create some boot media for me would ya?
Glitch has a
nice write up here
as a possible solution to media creation. A disk in the USPS would be considerably less time consuming...
c ya...
Thanks, - Jeff