My Dell System 200 286 is in tip-top condition with the exception that I'd still like to max out the RAM. It has 4 30-pin SIMM slots. Under the case cover I find this sticker on top of the floppy drive cage. See SIMM note on the lower left.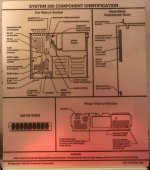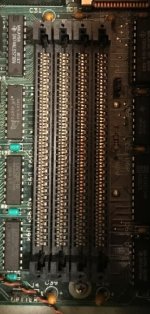 I bought a set of quantity 8 of 256 kB. SIMM sticks on eBay. Here is what the listing said.
"8x 256KB 30-Pin 3-Chip Parity 80ns Memory SIMMs 2MB Matched Set Vintage PC RAM
Condition: Seller refurbished
Our mission is to provide the highest quality Macintosh parts for your vintage computer restoration projects.
ITEM DESCRIPTION: This is a matched set of EIGHT 256KMB 30-pin SIMMs, totaling 2MB. These are parity modules with three chips on one side (other side is empty) This is a fully tested and working set for vintage PC systems.
NOTE: Your item may look slightly different than the one pictured here.
TESTING: The item was tested in our shop and works perfectly!"
I inserted 4 of the sticks in the correct direction and tried booting, but the computer would not boot. I removed the sticks and it booted fine.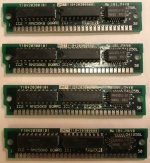 Is installing RAM in a 286 PC as simple as putting it in the slots and booting up, or am I missing something? Is it possible I was sent Mac SIMM RAM instead of PC RAM, or even some other thing, like Amiga SIMM? Is there any difference between PC SIMM RAM parts and Mac SIMM RAM and any other SIMM?
Last edited: