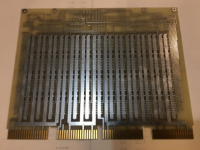 I found a couple of dozen of these blank PCB's. It looks like they were meant to be part of a two-board set, but I only have this part of a set.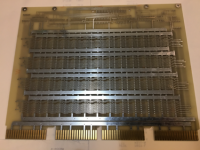 Here's the other side. Since it's a 13 x 4 array I'm assuming it was meant for an Omnibus environment (12 data + 1 parity)?
What could you use it for? Some sort of prototype board? Since there's no solder mask, it'll be tricky to work with. You could solder 30ga. wire from the top of the gold edge connectors to IC's?
The price is right - FREE. Just cover shipping cost from BC, Canada. Drop me a note if you'd like one.