So I purchased this large S-100 lot from a the original owner. He ran his business throughout the 80's on it. Stored it away and it hasn't been used in 25 years or more.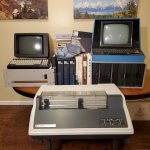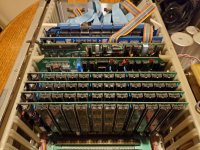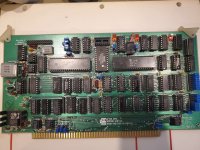 It has the following boards:
California Computer Systems (CCS) 2810 Z-80 CPU
Scitronics Real Time Clock
Tarbell MD2022 FDD Controller
(4) Memory Merchant 64K Static Memory
Solid State Music (SSM) IO-8 (<-- I do have the original manual for this, which it looks like people have been looking for)
Solid State Music (SSM) IO-4
In has a 21-slot TEI backplane in a TEI case. There is another enclosure which has (4!) 8" floppy drives. 2 are the Siemens 120-8, and 2 are the Qumetrack 842. I only have one floppy disk that came with it marked "System" which I will try to get booting later. I'm assuming it's MP/M since it said it was a 4-user system and I got a bunch of MP/M manuals with it. I also have the original manuals for most of these boards.
For now I am just trying to get into the monitor since the CCS 2810 has a built-in ROM. So, I started the main unit up with no boards to check levels - all voltage supplies are spot on. The only cards I have installed currently are the 2810 and the IO-8 (since it's port A was configured for Terminal 0). I jumpered the 2810 to run the ROM (ROM EN, JMP EN, JMP ADDR SEL set as indicated in the manual) but am getting nothing out on the terminal. Do I have to use the 2810's internal serial port in order to use the ROM? Currently SER EN is OFF. If so, how would I construct a cable? (the board has a 26-pin header). I depending on what cards I install, I will get the HALT LED come on. In the current configuration it does not come on.