Joined

Dec 7, 2011
Messages

821
Location
I finally sorted out my Helios II problem.
My drive was completely rebuilt by a friend who is an expert in Persci drives so I knew it wasn't the issue.
So first problem, my 32kra had a bad ram chip. When the system heated up it failed.
Next problem, the Helios front panel was causing a failure to boot. On advise, I created a special cable to bypass the front panel.
Finally I had a bad chip on the formatter card. It must have been marginal as it worked in another Sol-20 that belonged to a friend with a working Helios system. I've been thinking about this for the past hour and his system is an early unit without the T2 transformer and without the factory brown out mod so that could be the difference. My one system is a T2 and the other has the ECN specified modification.
Btw to find the problem on the formatter required me to write a program to convert a PTDOS image for DISKT to an ENT file so I could load it over a serial port into solos. There wasn't a copy anywhere on the internet that wasn't an image file. With DISKT, an oscilloscope and the manual I was able to track down what was preventing my system from booting.
Anyway I'm pretty stoked that it's up and running.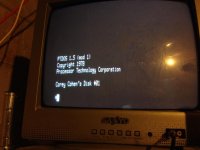 Cheers,
Corey