Joined

Apr 3, 2018
Messages

66
Location
Hi,
In 1995 during learning session, I discovered PDP-11 architecture and programmation. I liked it a lot. Since few years now , I search to get my own PDP. I wanted a unibus machine not Qbus. A 11/70 or 11/45 would have been perfect , but I didn't find something interesting. Last year I thought :"Is it possbile to build one from scratch ?". So, I start to read and read and read again DEC documentation (Thanks to bitsavers guys !) . I also learned to make PCB boards and re-learned electronic (I learned basic electronique around 1988 ). Around july 2018 , I decide to really start the study. I choose 11/45 for 2 reasons:
1) 11/70 is a little bit complex fo me.
2) I like the concept of Unibus B in 11/45.
My goal is to keep the "spirit" of PDP11. Mes requirements are :
1-My boards must be run into a real PDP.
2-My PDP can use boards of real PDP.
I studied an hardware architecture and finnaly I decided to have (for the first "shoot") this backplane architecture :

Today I plan to use a brige between row 2 and row 3 to use dual port memory.
The actual state of this project is
1 M930 and 1 M9302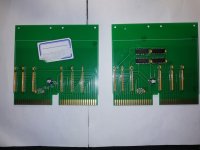 1 Test board for SPC . The board helped me to debug wrapping of backplane. I use it to visualize the signals and put an logical analyzer.
1 CPU Board (Will emulate KB11A +MMU+FP). On right part there is 2 connectors for the console. Switch on board can activate or not some parts (MMU/FP/M9312). CPU can use external LTC signal or use an internal clock. An connector is present to connect a USB terminal (MobaXterm in my case) . Not in the "spirit" of PDP 11
.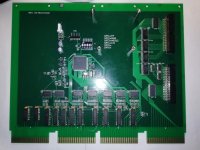 Few G227 Boards.
Of course a backplane has been made.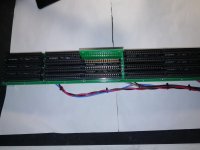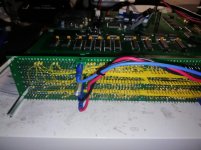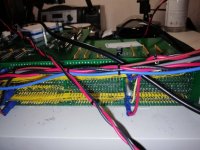 All boards: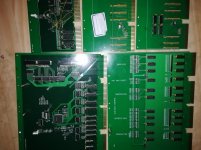 On the top left the memory board with 128Kw. Some bugs was found in it , I modified PCB routing using wiring and cutter !.
An other small board has been made to filter the power supply, give a 3.3v and simulate sequence of ACLO and DCLO.
Terminators,bus control,Memory board seems to works correctly. CPU Test are not finished yet but as far as now all tested parts work.
Today I decided to show you this year of work.
And now ? Of course I will ontinue on it, I already know that I will make a new CPU board ,but this one will ge me a lot of work!. I am studying also a RL11 SPC board (With 4 emulated RL02).
I let you to comment this project maybe you like , maybe not...
Thank you for reading me to the end