Hey folks,
i recently bought a IBM PS/2 Model 50 unfortunately without a working floppy drive.
The problem is that i need a "new old" floppy drive pretty soon to reinstall MS-DOS. Since it is quite hard to find such old drives i was wondering, if it is possible to plug
a newish IDE drive into my PS/2. I also heard that it is possible to emulate a floppy drive but I have no idea how.
I also have this strange feature to plug in a floppy drive straight into the PCB (as seen on the Picture)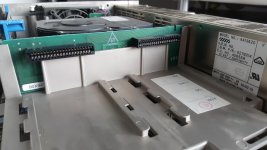 I would really really appreciate any kind of help and please excuse my english skills.