Joined

Mar 25, 2015
Messages

93
Location
I recently acquired another set of Imsai Calcomp drives and a two board set of an FIF FDC consisting of the FIB and IFM cards as well as all necessary cabling - between the cards, card to rear panel and a ribbon cable from the back of the Imsai to the drive enclosure. I spent a good part of today enhancing my
Imsai 8080
page with resources manuals and a couple more images. Trying to gather as much information in one spot.
I call this "The Money Shot" as in way too much money spent on old timey computers I really wanted that FIF set though.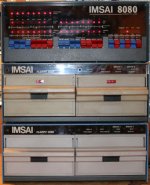 Hamlin 7521d Solid State Relay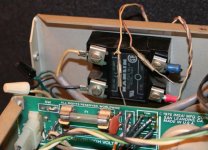 I opened up the FDD cabinet and noticed this relay. It's obviously added by a user, I'm wondering if anyone might have an idea why? My guess was to control it remotely perhaps from the computer? Like a tape drive control on a Sol-20... Note the ends of the brown and tan wires on the VDC side. I don't like that they apparently swapped HOT and Neutral between the power cord and power supplies. I'm going to bypass it but I'm curious.