Joined

Jul 5, 2012
Messages

324
Location
Anf finally, after a few years in my possession, the machine has been restored to the point where it now enters the build-in debugger. I first had to read the Datapoint 5500 manual to understand how to enter the debugger. And now need to understand this debugger some more, existing documentation is rather shortcoming here.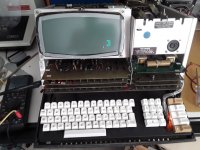 The debugger code lives in the bootrom, which is not present in the 2200, but is in the 1100. The 1100 bootboard sits in the slot occupied by the 2200 cassette reader PCB, and mimicks a booting casette. So if a DP2200 owner want to try this he will have to swap the RX board with a DP1100 boot board.
Note : in this picture the innards of the machine have been swung into the "service" position, allowing access to the PCB's with the keyboard still in place. A pin on each side holds the unit in this position.
Jos