Joined

Dec 6, 2015
Messages

9
Hi all;
I recently acquired an LA120-DA terminal printer and need a little help with some diagnosis on the Line Feed stepper motor.
As soon as the terminal is powered up, the LINE FEED fuse blows. I have checked the resistances of the stepper motor coils according to page 5-26 of the EK-LA120-TM-001 Technical Manual, and they all confirm as about 7.5 ohms. Using an LED, I have also confirmed that the stepper motor winding pairs light the LED (as shown in this video:
https://www.youtube.com/watch?v=1U9pf7S_ov4
).
The printer powers up and does a self-test that reports no other problems. It will print during a self-test print, but simply does not advance the paper. The Local Line Feed and Form Feed buttons do nothing in Local Mode.
Before I assume that the logic board for this terminal is at fault, is there any further diagnosis I can perform to help isolate the problem?
Can anyone guide me in checking the transistors that would be controlling the stepper motor? (see photo)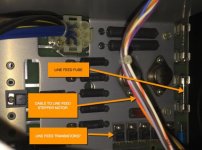 Any help would be appreciated. I know it's so close to working perfectly!
Thanks,
Tim