Joined

Mar 25, 2015
Messages

93
Location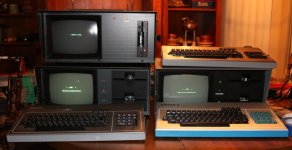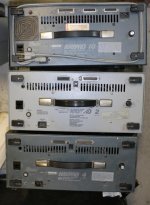 Here are three Kaypro computers. A 2, 4 and a 10. I prefer to sell them in this lot of 3.
They all power up. Haven't spent a lot of time trying to boot them. I did put in a know good boot disk from a working 2x sounds like it reset to track 0. didn't boot.
On the 10 I can hear the HD spin up and seek to track 0.
The 4 has a pretty scratched up top.
Two of them have missing or damaged reset buttons.
Only one power cord among the 3.
There is a good chance a Kaypro enthusiast can get them working. Or have some more spare parts.
Please help me reclaim some space in my garage.
Make an offer.
Local pickup in Phoenix, or weekend of August 6-7 in Mountainview, Ca.
I won't be schlepping these to Mountainview unless I get an offer.
I'd trade for a working Adam Colecovison computer system with controllers...