Hi all! I have this somewhat weird screen problemn on my Mac Plus: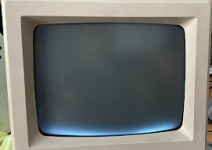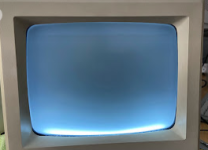 So when I turn the machine on it POSTs ok ( I hear the "bing" also) and then it loads my System disk. Everything seems normal but the screen stays from the start like in the pictures. On the left the brightness knob is turned neutral and on the right it's maximum. So it at least is kinda working.
The screen reacts to the loading of diskette. And if I move the mouse pointer (which I don't see) to the upper bar and press mouse button, I can see extra light at the bottom of the screen (from the opened pulldown menu). No pixels are to be seen.. only light. It is as if the screen is somewhere down there.
I have checked the dead scrolls pdf and resoldered the usual suspects on the analog board but no change.
Any help appreciated.
Cheers,
Mikko