Joined

May 3, 2013
Messages

58
Location
Me again. Been playing with console "1" which was repaired as per another thread. I'll restart work on console "2" presently, with the information kindly posted there by others.
Okay.
What am I doing that's silly? I mean besides playing with 8-bit computers in the middle of the night in the year 2014.
I'm trying to convert programs gleaned from the internet into .WAV files so I can load them into my honest-to-goodness old-fashioned TI99/4A, i.e. not an emulator. Ultimately, I want to record them on actual tapes and load 'em up old school.
Things I know:
- My TI99 can SAVE a "Hello, World." program to tape, and OLD it back, successfully.
- The TI99 seems to use a form of Frequency Modulation, so within reasonable lower and upper limits volume is not all that critical. (This is opposite of the ZX81/Timex, in which tape speed is forgiving but the volume setting is key.)
-
These guys
have successfully used CS1er to write .WAV files from the FIAD program files, and loaded the audio files back to a TI99.
Things I don't know:
- Why I can't seem to do the same thing, with either CS1er or with Tape994a. The .WAV files I create all result in "Warning: Check Program in Memory ... I/O Error 50"
- Why the output of either program seems to be centered on zero amplitude, while a PC recording from my (working!) original tape seems to have a DC component and uni-directional amplitude.
- Why I don't go to bed like other people's children.
(Okay the last one is sort of moot.) Here's an illustration of the waveforms I'm getting. The top is a program I have yet to experience, as output by CS1er. The bottom is my "Hello, World." picked up from tape.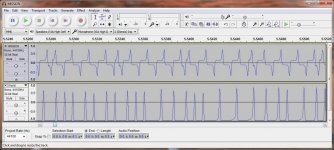 I have not managed to run my the TI99-to-TAPE-to-PC file back into the TI99. I think the volume as output from my sound card is not high enough, but at this point I'm not sure. I think I have tinnitus--I hear that dang sync file header even when nothing is playing anymore,...