VCF MA Committee Member
Staff member
Joined

Jan 21, 2011
Messages

679
Location
I just picked up a really neat and tiny 386sx/25 motherboard with the following specs:
- Headland HT18/C chipset
- 2x 72pin SIMM sockets (maybe 2x 8MB SIMMs, for 16MB total, based on chipset support for <= 20MB)
- Acer M5105 A3E super I/O chip (1x IDE, 1x floppy, 2x serial (DE9), 1x parallel)
- Ahead V5000 VGA w/ 256KB, expandable to 512KB, using 2x 256Kx4 @ 70ns DIP RAM
Top of the board: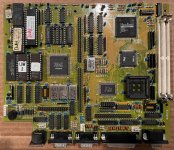 Bottom of the board: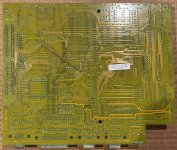 I've figured out the pinout for the power connector, and started reverse engineering the pinout for the oddball 2x 50 pin ISA riser, here:
View attachment Micro Q 386 Motherboard - Sheet1.txt
If anyone can help me to find the data sheets for the Acer, Ahead, or even better, the Headland HT18/C chips, that would make it fairly simple to figure out where the address lines are on the ISA bus. Any other advice is welcome, too! I also posted on Vogons, of course.
- Alex