Joined

Nov 29, 2018
Messages

176
Location
You know 'em, you love 'em, they add a clock, ports, memory and a thousand annoying, little jumpers and dip switches that aren't documented anywhere which makes configuring them an hours-long task, it's the multi-function expansion card.
In all seriousness, I have four of these I'm rationing out to my PC, XT and AT. Two (a Quadram QuadBoard and Eumlex Time Spectrum 284) managed to find info on and configure.
One, a Persyst Time Spectrum 384L, which I can't find any documentation on regarding it's two dip-switch banks, dozens of jumpers and how to configure them.
The last, I can't even identify aside from the fact it's made by STB and has a serial number of 1440. Luckily this just had one set of dip switches. Unluckily, I don't know what they do.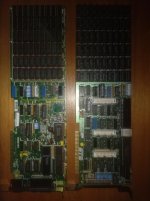 If anyone could help me, either with documentation they could provide on either card or any knowledge on configuring them specifically, it would be greatly appreciated.