Joined

Jan 29, 2017
Messages

47
Location
Yesterday I picked up an HP-86 from someone looking to give it a good home and now I'm starting the process of getting to know it. One thing I know is that I got a very complete setup: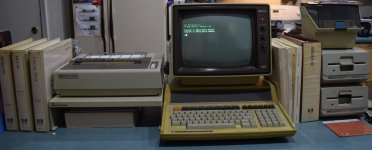 I got it with:
HP 86A 64kB
HP 82908A 64kB Memory Module
HP 82900A CP/M System
HP 82939A Serial Interface
HP 82936A ROM Drawer, containing:

HP Advanced Programming 1
HP Advanced Programming 2
HP Plotter
HP I/O

HP 82913A Monitor
HP 9130A Disc Drive (x2)
HP 82905B Printer
VisiCalc PLUS
FILE/80
WORD/80
And the documentation for everything!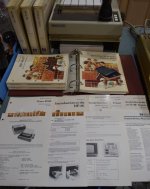 If anyone is looking for any of these manuals let me know and I can scan it.
Unfortunately the three complete programs have everything but the original disks. There are copies of all the disks in what appear to be the original sleeves though.
What I have played with so far has felt very Commodore to me. The alpha and graph memory for the text and graphics is really nice. Unlike the commodores it has a rolling buffer that starts out at 55 lines which is really nice. It's cool that you can also sacrifice the graphics memory and have 204 lines!. I haven't played with the CP/M module yet. I just threw it in for the photo. I've never had a CP/M computer so I'm looking forward to that.
I've already discovered the dark side of this machine. The key stems press fit into a thin plastic square tube. Time and furious key presses have weaken and broken some of the more commonly pressed keys and widened out the square tube, So when it is depressed is sticks down.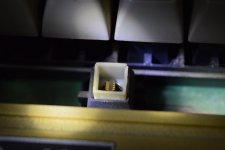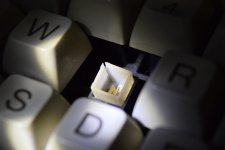 I took the top off last night to get a quarter out of it that someone dropped through one of the vents and briefly looked around. It's not easy to see much without getting deep into it.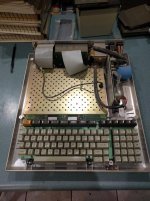 The keys look like they aren't going to be fun to repair. But I've already serviced the carbon pads on PET and TRS-80 Model 4 keyboards so I'm sure I can do it. Is there a know solution to this problem already? I was thinking about trying to lubricate the tubes so they will slide back up but that doesn't really solve the root problem. I can't glue it back together on the outside because that is where is slides in the assembly, and I can't glue it on the inside because the key stem slides into there. To make it even more fun the tube isn't the only part of the plastic piece. It also holds the two contacts inside apart until depressed to make the switch press. So it can't be easily replaced.
Aside from that are there any other common tips and tricks to this machine? I stumbled onto the HPDrive Project which would be great if this was an 86B. I want the HP-IB module anyway so if I can get one of those I'll try it out. The HP museum has a little bit of information on this stuff but for the most part it seems like a community hasn't really sprung up for the HP lineup,