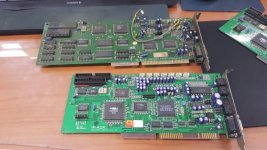 Hello.
I'll intoduce my 1st rare midi card .
Upper one is Oksori Professional 3.0. It's a kind of copy of Roland SCC-1.
Midi card intergrated with MPU-401 compitable interface (intelligent mode supports, almost 100%)
Dream 9203 with 8905B, 32Mbit (4MB) wavetable sound sample.
This midi card is known almost same sound set with Roland SC-55.
Very hard to get in Korea. I'd never seen in market place in Korea for last several years.
Lower one is Oksori WS16IIIe. Kind of sound blaster pro copy.
almost same specs compares with sound blaster pro, But Important thing is MPU-401 intelligent mode hardware support.
and also supports IRQ2 also gives benefit to certain DOS midi games. (EX, Princess maker II with MT32)
Usually, These 2pcs were using to one set for midi sound with sound blaster games in that times.
It's very simple to use without any other external midi module connection.
Just plugging in and can play midi sound with FM synth.
This set is one of my favorite sound set in my collection.
Thanks for watching.
Last edited: