Joined

Nov 23, 2017
Messages

61
Location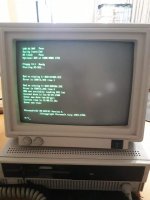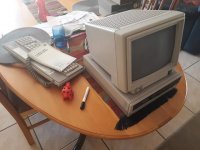 Our very first (IBM PC compatible) computer in our household was an Olivetti M19. That PC has long since been given away.
Last week, I managed to obtain another M19, with the full 640KB RAM and a 20 MB hard drive.
Unfortunately, the hard drive isn't working anymore and the housing around the keyboard cable is starting to come loose (seems like this is a common problem).
I know that the M19 could be upgraded to also accept an I/O expansion box on the left hand side of the computer that housed a separate PSU and therefore enabled a user to connect a colour monitor to the PC.
Anyone perhaps own an M19 with this I/O expansion box? How do you connect this to the PC and then disable the on-board connection to "tell" it not to use the monochrome monitor with its built-in PSU? I realise you then don't use the monochrome monitor but, I assume there are jumpers that must be changed?
If anyone has one of these I/O. expansion boxes, I would be interested.