Joined

Feb 12, 2016
Messages

131
Hair Dryer... That is the solution for the keyboard!
I used the hot setting and heated up the metal bottom of the keyboard while pressing the keys and that eventually freed up the stuck ones!
So now it appears to totally work! Both disk drives can read and write, the keyboard works, and a number of software applications including BASIC.
A big thanks to Erik who lives in the Bay Area town next to me who made me some of some CP/M bootable diskettes. He also hot-swapped my keyboard into his machine running WordStar to see which keys were stuck which was also very helpful!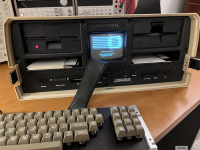 Last edited: