Joined

May 31, 2011
Messages

494
Location
I collected a PDP-11/24 two weeks ago today. It is in a BA11-A with H7140 PSU. Cards installed are M7133, M7134 and M8743 MS11-PB. It was in very clean condition with some signs of corrosion. I had this weekend and last Saturday to start this project. I cleaned the inside, backplane, PCB's PSU etc. Need a solution to remove the white corrosion spots on the BA11 case.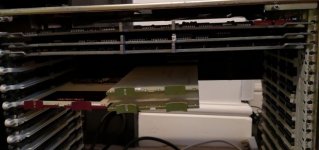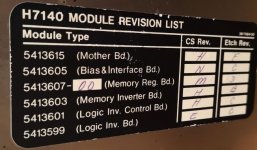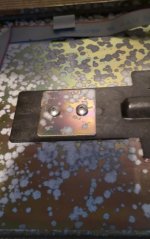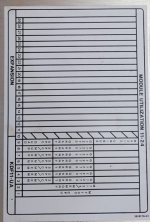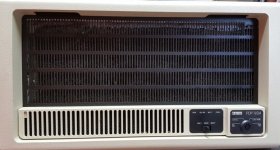 M7133 CPU has the following installed MMU, DAT/CTL and FPP, Both SLU's configured for 9600 Baud.
M7134 Unibus Map has 767A9 (UDA50), 751A9 (RL01/RL02) and the CPU diag ROM installed. voltage monitoring switch pack E6 is set correctly BA11-A with only S3 ON. Oddly S3 was OFF and 1,2 and 4 where ON when I received it.
After inspecting H7140 PSU for bulging caps, burnt tracks and any other obvious to the eye issues I powered up with no circuit cards installed. DC OK LED is illuminated and two of the three fans in the fan tray run. The fans are 35V. I cleaned the faulty fan and the bearings appear free enough but this fan still doesn't start even with a "nudge". Faulty fan requires further investigation, 35V fan is going to be like finding hen's teeth so may have to repair this one somehow.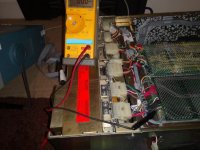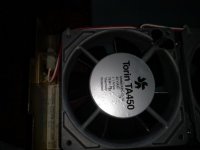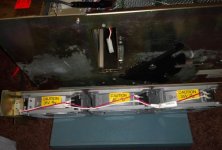 PSU voltages
Measured with Multimeter and checked with Oscilloscope
-14.95V
+14.95V
+11.97V
-11.98V
+5.1V
LTC 1.4v with a 50HZ square wave
I removed the spare DD11-DK backplane (probably won't use this) and moved the M9302 terminator to slot 9 of the 11/24 backplane I also installed G7273 is slot 7, 8 and 9 (NPG grant not needed in slot 9 but I didn't have another G727) and G727 grant cards in slot 4,5, and 6.
Inserted the 3 PCBS and powered on. DC OK on front panel illuminated, RED CLK LED on CPU is illuminated and Green battery power indicator is illuminated (not sure if this LED should be on, I don't have any battery connected) on MS11-PB.
I connected a terminal and with system set to HALT powered it on and I get @ on terminal and a random series of numbers. when I press the space key the RUN LED on front panel flashes so I think the console SLU is working ok. If I type 0/ CLK LED goes out and I have to power cycle the box. looks like I can't address memory?
Next time I powered it up the DC OK LED is flashing and green LED on MS11-PB is off with red Uncorrectable error LED now illuminated. Powered off reseated PCB's checked for any new obvious burn or damage. Nothing obvious.
Checked voltages and +12V now at 2.86V (crowbarred?). White wire to P4. After lots of checks this is how it now powers up all the time.
I have the drawings for the H7140 PSU but it doesn't have any test points from what I can see apart from 300V DC and at the power connectors themselves. The H7140 is a motherboard and daughter card configuration but I don't have any extenders or connectors to make any so I think I'm going to struggle troubleshooting the PSU issue. I suspect one of two PSU cards will be faulty either memory regulator board or memory inverter board. From the drawings it looks like 12V is generated here. Anybody repaired a H7140 successfully before and have any advice or pointers? I found one post on internet but for an 11/44 and his issue turned out to be the "ribbon" power cable used on the 11/44.
Last edited: