Joined

May 6, 2011
Messages

37
Location
Hi everyone. I found this great place looking for repair informations... as many others, as it seems
Long story short, I've just received my first PET - lovely machine, from what I can see
It's a CBM 3016, and... well, it's not working.
The entire display is collapsed into a thin horizontal line, no vertical deflection. I can see a blinking cursor, that moves when I press a key, so at least it seems alive.
My electronic skills are pretty basic, so after a visual inspection of the monitor pcb, and some basic checks with a multimeter, I started comparing the waveforms in the vertical deflection area with the ones available in the circuit diagram. But... it didn't pass the first check. Apparently, there's no pulse coming from the vsync signal of the motherboard.
Better... the pulse is there, as you can see below (setting was 1v - 5ms), but is almost imperceptible.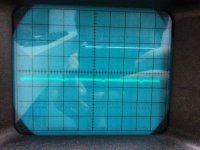 So, my questions:
- The lack of vertical sync pulse can cause the absence of vertical deflection on the monitor? Or I should expect two different faults?
- What's the best way to proceed with the tests? I'm... well, a bit stuck
Thanks in advance!
Cheers,
bano
Last edited: