Joined

Dec 1, 2013
Messages

369
Location
A few months ago I picked up an RK05j for my PDP-8/e, and I've finally got around to replacing the foam and testing the electronics, which so far seem fine.
However when trying to load a cartridge, it doesn't seem to stick to the spindle magnet correctly, as the platter hits the "duckbill" when the spindle is rotated.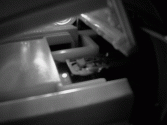 At first I suspected that the spindle could be bent or that the disk is warped, but no matter what rotational position the spindle or platter is in when a disk is inserted, the platter hits the duckbill whenever the spindle is rotated about 90° in one direction and 100° in the other. I've checked the spindle with a dial indicator, and there's no discernible movement. Whenever the disk is inserted, a small gap is visible between the spindle and base of the disk (mating ring? I'm not sure if there's a term for it), which gradually closes as the spindle is rotated, at which point it bites against the duckbill.
Does anyone have any idea what the likely cause is and how to go about checking it? At this point I'm suspecting there's either a problem with the cartridge receiver (nothing stands out as being wrong though), or the alignment of the spindle shaft perpendicular to the heads.