Joined

Jan 1, 2013
Messages

69
Location
I was helping a friend's parents fix their Windows Vista computer (yuck) and they mentioned something about having a bunch of old computers in the basement. They asked if I wanted any of it. Most of what I found was old Windows 98 type stuff, but in a corner was this nice black bag with an Apple rainbow logo on it.
A Macintosh Portable computer from 1989, in the original carrying case, with a bunch of floppy disks and the AC adapter. They gave it to me for nothing, since they said it stopped working around 2000 or 2001 and they just gave up and put it in the basement. They were about to send it off to recycling along with a bunch of Gateway and Dell junk.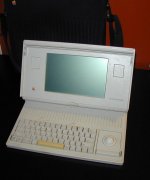 It does not turn on. The power receptacle seems to be loose. This is the only model of Macintosh made from 1984 until 1995 that I have never even touched before. The system appears to be complete, with a 40 meg hard drive and a RAM card, plus a modem card installed in it. There was a 9 volt battery that had a 2002 expiration date on it, and the Apple internal battery that looks original.
Does anyone know of a guide to disassembly for this? I'd like to check the power connector first. Do I need a working main battery for this to power on? I did put in a fresh 9V battery but that made no difference.