Joined

Mar 9, 2013
Messages

880
Location
I know these type of posts are really just for the author's benefit, but... it feels so good when a project is completed, you just have to tell someone!
I have completed restoration of a Sol-20 I recently purchased off eBay. After working through a series of power supply, motherboard, and keyboard problems, I was finally able to get the Sol up and running at 100% functionality.
The Sol-20 did not come with any S100 boards (i.e., no additional memory, floppy disks, etc.), so using spare equipment I had on the shelf, I installed 48K of RAM, a Micropolis floppy disk controller, and two Micropolis Mod-II drives. I then created a 48K CP/M 2.2 for the Sol-20 and Micropolis drives.
Here's a picture of the completed Sol-20 project including the two Micropolis floppies running CP/M 2.2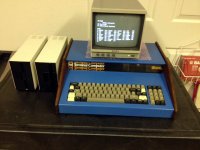 Mike