Joined

Mar 25, 2015
Messages

93
Location
I'm repairing a Solid State Music (SSM) IO4 card. I'm configuring it as an Altair 88-2SIO which I've
accomplished previously
on another board. I verified my cables and TeraTerm config using Martin's 88-2SIOJ card first.
I cleaned up some questionable solder spots, checked voltages. The board I'm currently working on has a problem with a nibble. Any suggestions for further troubleshooting? I used a logic probe to verify S2 and S1 configuration switches.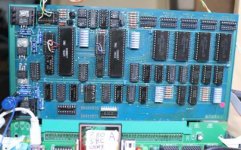 Check out this table of what I typed and what is displayed along with the characters in binary and bad bits circled.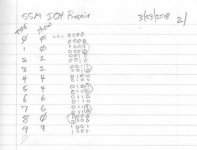 I've tried this with identical results on both serial ports.
This is the echo program I used for testing.
Code:
                ; 5/8/2015 JHA SIOECHO.ASM 
                ; Testing the SSM IO4 for Mits 88-sio compatibility. 
                ; Should echo characters on serial A port. Or B port see CTLPORT/DATAPORT EQUates.
                ; disassembled from Mits SIO code and recompiled to run under cp/m
                ; works on my S100 running JAIR cp/m 2.2
                
 0005 =         BDOS		EQU 5				; BDOS entry
 0006 =         RAWIO		EQU	6
 0009 =         WRITESTR	EQU 09h				; BDOS write string call. Terminate string with $
 000D =         CR			EQU 0dh
 000A =         LF			EQU 0ah
                
 0010 =         CTRLPORT	EQU	20o	
                ;CTRLPORT	EQU	22o	; Second serial port 'B'
 0011 =         DATAPORT	EQU	CTRLPORT+1
                
                ;		ORG	0		; start at 0 to compare / verify against opcode listings.
 0100           		ORG	0100h	; cp/m tpa I'm running my test under cp/m.
 0100 0E09      		mvi C, WRITESTR			; setup for BDOS string print call
 0102 112401    		lxi D, MSG1
 0105 CD0500    		call	BDOS			
                INIT:
 0108 3E03      		MVI	A,3	; disable interrupts for both ports A and B.
 010A D310      		OUT	CTRLPORT
 010C 3E11      		MVI	A,17
                		;mvi	A, 021	; Set port 1 to 8,2,n
 010E D310      		OUT	CTRLPORT
                LOOP:
 0110 0E06      		mvi	c, RAWIO	; give operator a chance to cancel with ^c (NOT WORKING)
 0112 1EFF      		mvi e, 0FFh
 0114 CD0500    		call bdos
                		
 0117 DB10      		IN	CTRLPORT
 0119 0F        		RRC
 011A D21001    		JNC	LOOP	; wait for input.
 011D DB11      		IN	DATAPORT
 011F D311      		OUT	DATAPORT
 0121 C31001    		JMP	LOOP
 0124 4563686F20MSG1:	DB		'Echo from IO4 serial data Port.',CR,LF,'$'
 0146           		END