Back in the late 90's while working as a computer tech I built many K6 systems so I am pretty familiar with the CPUs. I recently purchased a Micronics Twister motherboard on ePay and it included the K6 233MHz CPU shown in the pictures below: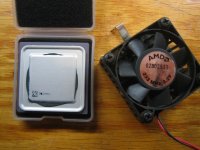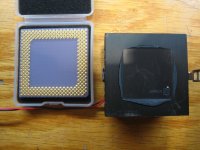 I've never run across a K6 (or any AMD CPU for that matter) that was blank. As you can see there is no silkscreen or engraved markings as is typically found with K6 era CPUs.
At first I thought perhaps the lettering had been removed with some sort of solvent. However the heatsink/fan combo has a sticker on it identifying the chip, its voltage, and what appears to be a serial number. It also appears that the heatsink/fan is original and has never been removed since installed (it was a little effort to get the CPU separated from the heatsink). I've never seen a dedicated AMD heatsink/fan combo like this with information about the underlying chip printed on the spinning sticker.
Anyone care to venture what I have here? An engineering sample? The original seller only remembers obtaining the board sometime around the early 2000's as a spare.
The chip does indeed work. I pulled it to put an Intel 233MMX CPU in its place.
Last edited: