Delivery Options

Local Pickup Only
I'm considering parting ways with my custom Windows XP retro build, which is targeted to the fall of 2006 hardware offering by AMD. It's based on the AMD Quad FX desktop platform with two dual-core Athlon 64 FX-74 processors overclocked to 3.3GHz on an ASUS L1N64-SLI WS motherboard, with 4 gigs of Crucial Ballistix DDR2-800 memory, two nVidia GeForce 8800 GTX 768MB cards running in SLI, WD Raptor 10,000 RPM HDD, a modded Chieftec Dragon DG-01 case, and a custom water cooling loop using modern parts. The PSU is also modern for reliability and cleanliness: Corsair HX1000i. It's running Windows XP Professional x64 Edition with DirectX 9.0c.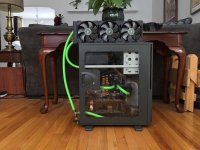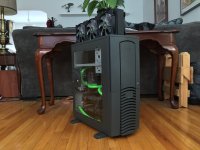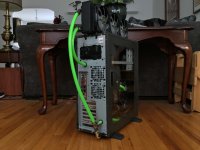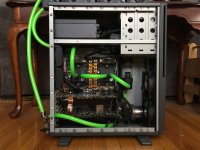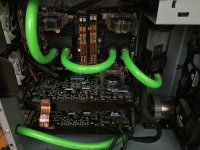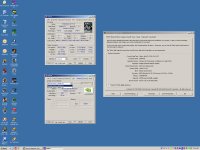 The Chieftec case was new-in-box when I began the project, and the original box with accessories will come with the machine.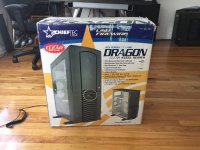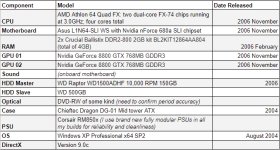 Liquid Loop details:
CPU blocks: EK Supremacy MX AMD
Radiator: EK Triple 140 with 6x 140mm Corsair SP140 fans
Pump: Swiftech MCP655
Reservoir: Phobya Balancer 150 Black Nickel
Fittings: Phobya 16/10mm Compression Black Nickel x10
Tubing: PrimoFlex Adv. LRT Atomic UV Green, 3/8in. ID X 5/8in. OD
Fan Controller
See screenshot for games currently installed, HOWEVER no physical CDs are included, so in some cases you may need to find a No-CD crack to run it unless you happen to have the disc as well.
It runs great, stays cool, will handle anything from this era you can throw at it, and YES it runs Crysis! The monster radiator dissipates a lot of heat, so it does tend to warm up the room after a while.
It's a great machine for era specific gaming, and it's a joy to have around. I'm just out of space so I need to trim down my collection, so am hoping a fellow enthusiast catches wind of this and feels inspired to give it a new home.
I easily have over $1,100 into it, but am offering everything you see here today for just $300.
Local pickup only at this time, as this beast is QUITE heavy. I'm located in Los Angeles, CA
Last edited: