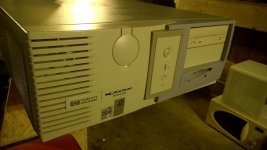 ​
Here is a great OpenGL Workstation.
It's an HP Kayak XM600 Revision 2.
The specs:
- Dual Pentium III EB 800Mhz socket 370 (matching step/heatsinks, repasted)
- HP/Asus CUC-D motherboard (new CMOS battery)
- 256MB RDRam Rambus
- OpenGL/Framebuffer Card, INTERGRAPH Wildcat 4110 PRO 128MB (AGP Pro version)
- Onboard LAN/Audio ESS (great compatibility)
- Additional LAN Card
- Original PSU
- Original floppy/optical drive
- Original WD 40GB HDD
- thermal drived chassis FAN
- Original Windows 2000 PRO Sticker readable
Great looking, no part missing. screws matching ...
The workstation "can" play OpenGL classics at an acceptable Frame Rate.
Really usable card unlike old intergraph(s) with limited fillrate.
Unreal @ 800x600 and HLife @ 1024x768...
Miss a Voodoo 2 SLI for a perfect machine.
Price:
280€
Shipping: ASK
Can add keyboard/mice with a little extra